Custom Enamel Pins In 10 Days or Less
Pin Depot's experienced team of friendly customer service reps, graphic designers and brand experts are here to help you create the perfect custom enamel pin for your business, organization or store.
Whether you are making years of service pins, fan merch, or just a commemorative piece celebrating a milestone, Pin Depot has you covered! With domestic and overseas production options, we can handle any project!
We have made the pin making and ordering process super simple, and have proudly served tens of thousands of satisfied customers, ranging from a single person ordering pins to fortune 500 corporate clients!
The easiest way to get started is to click our "+ Free Quote" button at the top of this page. It will take you to an interactive order form. There, you will be able to choose your specifications in order to get started ordering your pin!
Designing Custom Enamel Pins Doesn't Have To Be Complicated
You may think that getting custom enamel pins is a long complicated process, but it may surprise you how simple the process can be! Usually, you'll have your custom pin in hand within 2-4 weeks! Not an artist? No problem! Our talented team of graphic artists and designers can bring any pin idea you have to life. They'll design a great looking enamel pin for you, and you'll get a digitally rendered proof in order to see how your pin will look, all at no additional charge!
Along with your digital proof, you'll also get a price quote. The quote will show the total cost for your pin design, breaking down the price line by line so you know exactly what you are paying for!
Need to revise your design? At Pin Depot, we offer unlimited revisions at no additional cost! We want you to be 100% satisfied with your design! Once you have a design you love, just place the order and your custom lapel pins will be produced in just 7-10 business days. Our manufacturers will provide you a top quality lapel pin on time and on budget. From corporate events to small groups, for orders large or small, the Pin Depot team is here to help you design the perfect pin for you!
All orders include FREE FedEx Priority Shipping.
Advantages of Using Custom Pins
Custom lapel pins, including soft enamel, hard enamel, and die struck pins, are super versatile and have many uses. Lapel pins can establish or reinforce your brand, celebrate a milestone, or be sold as merchandise online! They can also be used to recognize employees, and celebrate years of service. If you have a trade show coming up, you can use custom lapel pins to exchange contact info, much like a business card! Pins can also be used to grab attention, show solidarity, raise funds, or commemorate important occasions. Whatever your pin is being used for, be sure to wear it proudly!
Pin Depot Makes Creating Custom Pins Simple!
Pin Depot makes creating your own custom lapel pins easy! Our customer service reps will gladly help you through the process. From choosing a pin style, to selecting a plating type, to determining your pin size, our team will help you pick the perfect options for your needs and your budget.
To get started, click the "Free Quote" button at the top of this page and complete the Free Quote form! After that, a sales representative will contact you in order to help you create your custom lapel pins!
View Our Gallery
Your pin can now be Made in the USA! Our domestic production process is also available in order to find the best possible price for your lapel pin needs.
The Depot Network offers other custom products as well! Check out our other sites for custom patches, challenge coins, lanyards, and many other custom marketing products. You are sure to find a product and a price that is perfect for your needs. Our custom products are available in just about every size or shape, and can be made in the U.S.A, or with our production facilities around the world.
We don't just offer lapel pins! You can also create other custom products, such as custom patches, challenge coins, cufflinks, and lanyards. You will find a great range of options at a price point that's right for you. We offer custom promotional products in any size or shape, made in the U.S.A. or with our partner manufacturers around the world.
Ready to make your own pins?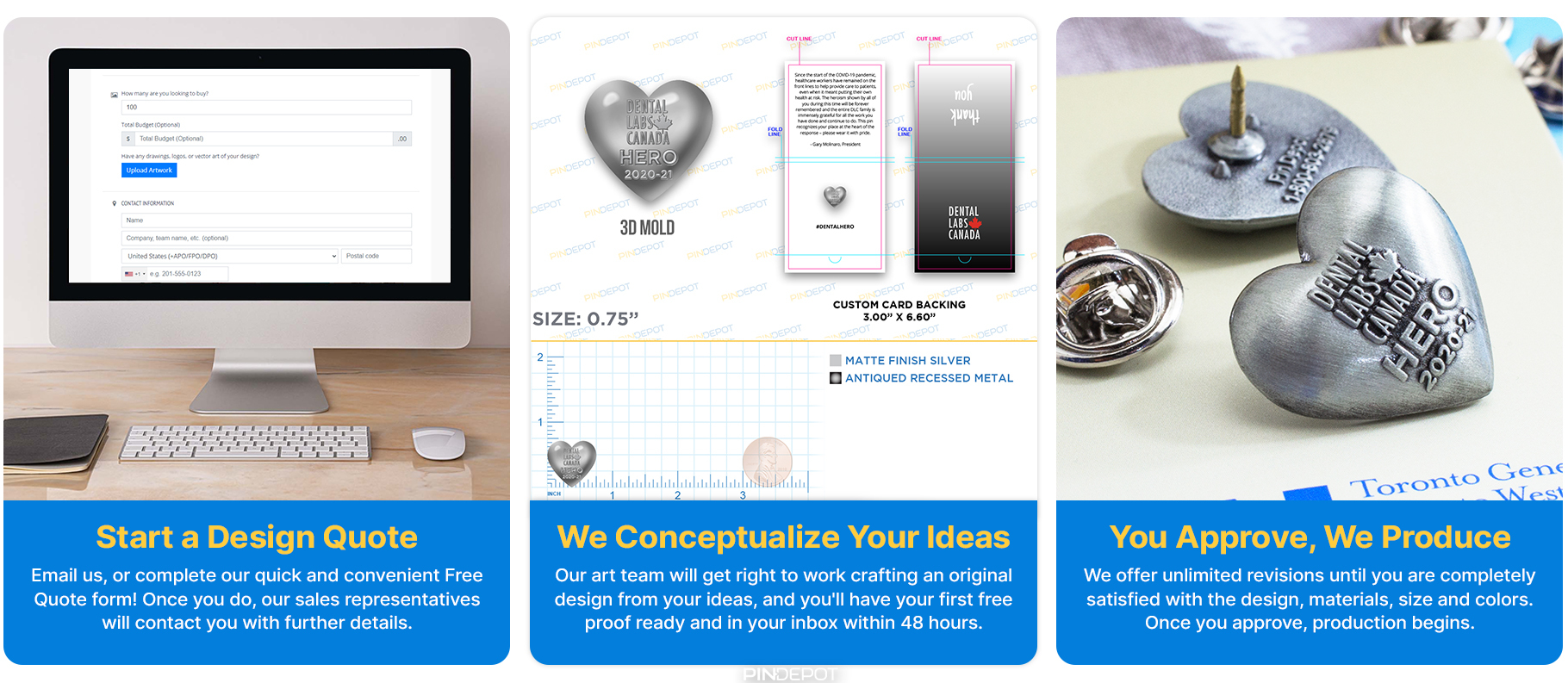 We can't wait to help you express your creativity with your own custom lapel pins. We will be adding more features to our web presence very soon, including a Depot Network Youtube Channel, so we can show you even more of the tools and tips we use in order to create the best pin possible for you!
Simply Email Us, or complete our quick and convenient Free Quote form, and a sales representative will contact you regarding your request to begin the process of creating your custom lapel pins.